LOVE: A New Exhibition at the Cloister of Bramante
From 29th September 2016 to 19th February 2017, an unmissable art exhibition at the Cloister of Bramante is taking place that will be the perfect day activity for couples.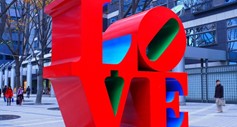 This fun and contemporary exhibition, titled "LOVE", is bringing together some of the most important artists of contemporary art for the first time in Rome. Among the many celebrated artists, pieces from Yayoi Kusama, Tom Wesselmann, Andy Warhol, Robert Indiana, Gilbert & George, Francesco Vezzoli, Tracey Emin, Marc Quinn and Francesco Clemente will all be on display.
The exhibition aims to address this universally recognised feeling that has always been a source of inspiration for the arts. Pieces will be on display with the aim of describing the different facets and infinite variations of love in the modern world. Sections at the exhibition will be divided according to emotion, with pieces describing "happy love", "love turned to hatred" and "transgressive love".
Opening times
The Bramante Cloister is open daily at the following times:
MON - FRI: 10:00 to 20:00
SAT - SUN: 10:00 to 21:00
If you are interested in visiting this unique exhibition, please ask at your hotel reception for additional information.
Search Keywords
Enter keywords below to perform a search within the events to find more relevant posts