Rome: A Top Vacation Destination
TripAdvisor's annual Travelers' Choice Awards have recognised the Eternal City of Rome as one of the top European travel destinations for 2018, along with Paris and London.
Every year, TripAdvisor announces its Travelers' Choice Awards based on the reviews of real travelers, as well as travel statistics. Recently, the online travel website announced the top European travel destinations for 2018 and confirmed the top spots were taken by Paris, London and Rome.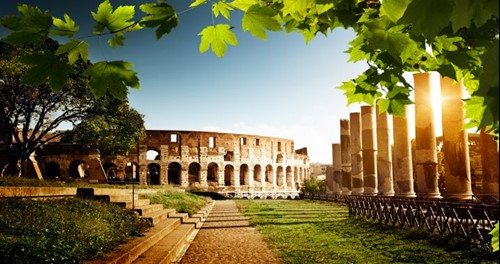 Also recognised as hot European travel destinations for 2018 were Spain and Greece, as well as Florence, Venice and Campania in Italy.
Speaking of Rome's recognition as the number three travel destination for 2018, Valentina Quattro, TripAdvisor spokeswoman for Italy, noted that "spring is the ideal season to organize trips and discover some of the most beautiful destinations of Italy".
Sitting on the podium in the number three position, Rome has improved its ranking compared to 2015 and 2016, when it sat in seventh position, as well as compared to 2017, when it peaked at fourth position. With its iconic landmarks, history, culture and sublime Italian food, it's no wonder that travelers are continuing to recognize Rome as one of the world's most sought-after vacation destinations.
Aside from Rome, other cities and regions in Italy were also recognized as part of the TripAdvisor Travelers' Choice Destinations Awards 2018. In fact, Florence and Venice both closely followed Rome in the list of top European travel destinations, and the regions of Campania and Emilia Romagna were also noted. In particular, Sorrento, Ischia, Naples and Positano in Campania were selected as excellent vacation destinations if you want to explore the south of Italy.
About TripAdvisor's Travelers' Choice Destinations Awards 2018
The way in which TripAdvisor determines the top Europe travel destinations as part of its Travelers' Choice Destinations Awards is rather convoluted, but focuses on vacation quality, as well as popularity.
The prize winners were established using an algorithm based on the quantity and quality of reviews, and the scores collected by hotels, attractions and restaurants in each city over the last 12 months. This data was then qualified by the number of bookings made through TripAdvisor to these destinations to give the top European travel destinations.
Why Choose Italy for your European Vacation?
According to TripAdvisor's data, Italy offers some of the best rates for a European vacation, with budget-friendly hotels in the major cities and deals available in the spring months, especially April and May. In fact, by visiting Italy in April, travelers saved up to 32% compared to the peak season when traveling to the major tourist destinations.
If you would love to visit Italy on a custom-made European vacation or perhaps enjoy a tour of the top three European travel destinations, why not speak to one of our friendly travel advisers about our tailor-made European tours and vacations. We specialize in travel to Europe and create customized and handcrafted vacations for our valued customers. To find out more, call us on 1-347-826-1350 or click here to send an online inquiry. You can also browse our selection of European tours and vacations by clicking here.
Search Keywords
Enter keywords below to perform a search within the events to find more relevant posts