Rome Archaeological Park Reopens the Tomb of Barberini
Of the Via Latina Tombs, the most famous of them, the Tomb of Barberini, is set to open to the public for the first time since its latest restoration effort. Named after its former landowners, the Tomb of Barberini is found along the Via Latina, one of the oldest streets in Rome. After two years of careful work, the Tomb of Barberini was restored and is part of an archaeological park spanning approximately 450 meters.
Over the years, this extraordinary relic was preserved within the archaeological park. Known as the Via Latina archaeological park, this enclosed area is maintained with care. This is evident from the picturesque greenery around the tombs, which retain the charm of ancient Rome.

Along the path of Via Latina, the Tomb of Barberini is now accessible to visitors through guided tours. In addition to the Tomb of Barberini, guided tours are also provided to the tombs of Valerii and Pancratii, which are located in the same archaeological park.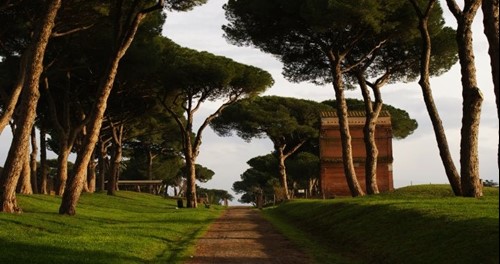 Step back in time
Those who choose to visit the reopened Tomb of Barberini are greeted with a stone monument that overlooks the Roman countryside. This two-floor building, which also includes a burial chamber underground, is among the few 2nd-century structures that still retain an original form.
Travelling into the tomb's burial chamber, you'll find a host of ancient Roman artifacts. Frescoes, colorful mural paintings that were common to ancient funeral rituals, and eroded animal and mythological figures decorate the chamber's interior. This well-preserved monument was also used to provide shelter to farmers right up until the 19th century.
Because of the tomb's storied history, €250,000 was invested to restore and preserve the monument. Over a two year period, the deteriorated floor of the tomb was restored along with the staircase that connected the floors, and lighting fixtures were also installed. The reconstruction of the tomb was done using metal grids in an effort to maintain the proportions of the monument's interior.
Consequently, the restoration of Barberini Tomb has renewed interest in the archaeological park and priceless Roman monuments. If you'd like to visit the archaeological park, book a tour of the tombs while in Rome. We offer a range of tailor-made Rome tours to ensure your next trip to Italy is a memorable one. This is ideal for history enthusiasts as you'll step back in time and discover how things were done in 2nd-century Rome:
For our Rome tours and excursions, please click here.

Be sure to get in touch with one of our experts as we offer custom tours for any occasion. Call us at 1-347-826-1350 or submit an online inquiry here.
Search Keywords
Enter keywords below to perform a search within the events to find more relevant posts